For user convenience, network traffic-usage information is displayed in two ways.
To obtain full information on application network activity while the Firewall is in operation:
run Dr.Web;
open the Firewall component;
click on the "Applications" tab.
To view data pertaining to an application you are interested in, select the application from the list—the settings window, containing complete information, will open.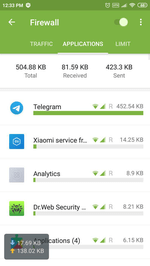 The user can also control this information via the floating window—we've described how to enable it here.