Once the anti-virus is installed, a notification will appear, saying "Your permission is required to scan the file system":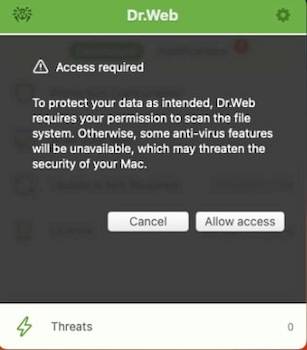 The notification will appear after each device restart, and hourly thereafter, if ignored.
To grant permission for the scan, you should:
Click on the Allow access button.
Drag the Dr.Web icon from the Drive Access Permission Wizard to the settings window:
In case the notifications were ignored, the Allow access button is added to the "General" settings section: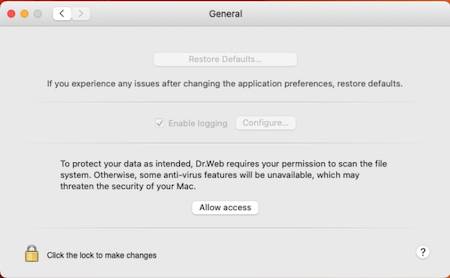 After clicking on this button, proceed as described above.
A special case when there is a drive access permission issue — the SpIDer Guard component is not activated on macOS Ventura. In this case:
Remove the installed version of Dr.Web anti-virus.
Install the latest version (for example, from the official website: https://download.drweb.com/?lng=en).
Grant the necessary permissions according to the above instructions.