The page may not load correctly.
I have problems when I try to uninstall the Dr.Web anti-virus. What should I do?
If you are finding it impossible to uninstall Dr.Web using standard Windows tools, use the Dr.Web Remover emergency removal utility, which can be downloaded here:
https://download.geo.drweb.com/pub/drweb/tools/drw_remover.exe.
Run the downloaded file. Enter the CAPTCHA code (this is necessary in order for Dr.Web self-protection to be disabled) and click on Remove. After the process is complete, you need to restart your PC.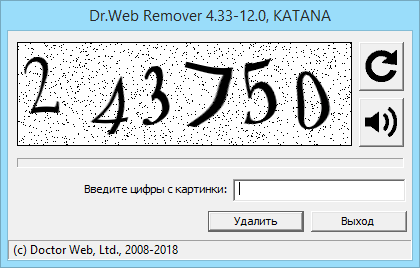 If the uninstallation fails after using Dr.Web Remover, please submit a request to our technical support service.