The page may not load correctly.
For prospective Dr.Web users
Demo version
How can I submit a trial request via the program?
For Windows
After installing the program, open the License Manager and follow the link you need (for 30 days or for 90 days) in the Get trial version section.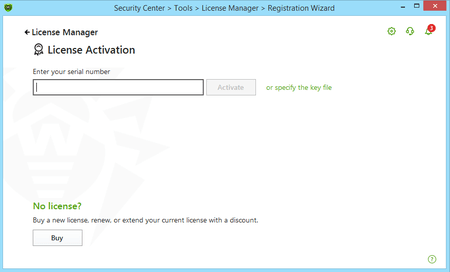 For Linux/Mac
You can request a 30-day trial by clicking on the link Activate a 30-day trial period in the Registration Wizard.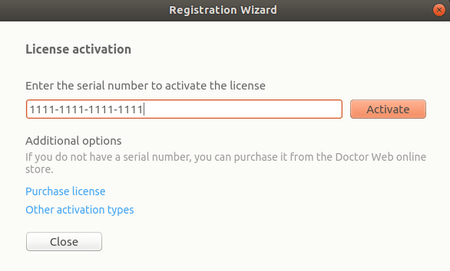 I'm using a demo version. What can I do if I have any questions about the program?
All products developed by Doctor Web come with comprehensive user manuals. To download a manual for the anti-virus installed on your PC, look for the product's description in the Download section of www.drweb.com. Open a corresponding page and download the manual from the Documentation section.
If you can't find an answer to your question in the documentation, please go to the Frequently asked questions section or contact the Technical Support service.
I'm using a demo Dr.Web anti-virus. Since yesterday an anti-virus usage period expiry message appears whenever I reboot the system. What's happened?
This message means that the thirty day trial period is over. You need to either remove the anti-virus, or purchase a licensed version of Dr.Web.
Do I need to remove the trial version from my computer before I install the licensed version?
Removing the program from your computer is not necessary. To turn a trial copy of Dr.Web into a licensed version, you need to purchase a license and register it. Right click on the Dr.Web icon in the system tray and select Register in the context menu. During registration you will need to choose the option Obtain a license key file with serial number. Once you have entered your serial number, a key file will be downloaded to your computer automatically. An Internet connection is required for registration.
I'm using a demo version of an anti-virus from another company. Can I change it for Dr.Web at a discount under the promotional offer "Switch to the green"?
No. In order to migrate to Dr.Web anti-virus at a discount provided under this programme, you need a commercial license for a different anti-virus. Find out more about the "Switch to the green!" programme here.
The program informs me that the demo expires, even though I bought a commercial license (license renewal) and registered it. What shall I do?
If you already have registered your serial number, do the following:
Right-click on the Dr.Web icon in the notification area. In the context menu, select Tools–> License Manager. In the License Manager you need to remove the demo license (key file drwdemo.key) and reboot the computer.